Whatever you require for your driving range, Turf Net Sports Supplies can help. Check out some of the equipment we offer.
Your Driving Range
Will Function Like Clockwork
Turf Net Sports Supplies offers a full range of driving range equipment, parts and accessories. 
Wittek,  Eagle One  and Bayco Dealer
We also carry a full line of driving range mats, range pails and mesh bags, rubber tees and wood tees, course signage, flags & flag Sticks as well as many other items for the range or the golf course.
For Everything Golf - We're Your One-Stop Shop
TNSS not only supplies golf courses, driving ranges and miniature golf facilities with supplies and equipment, we also offer a full range of containment and barrier netting as well as a landscape turf for every application. 
Contact Us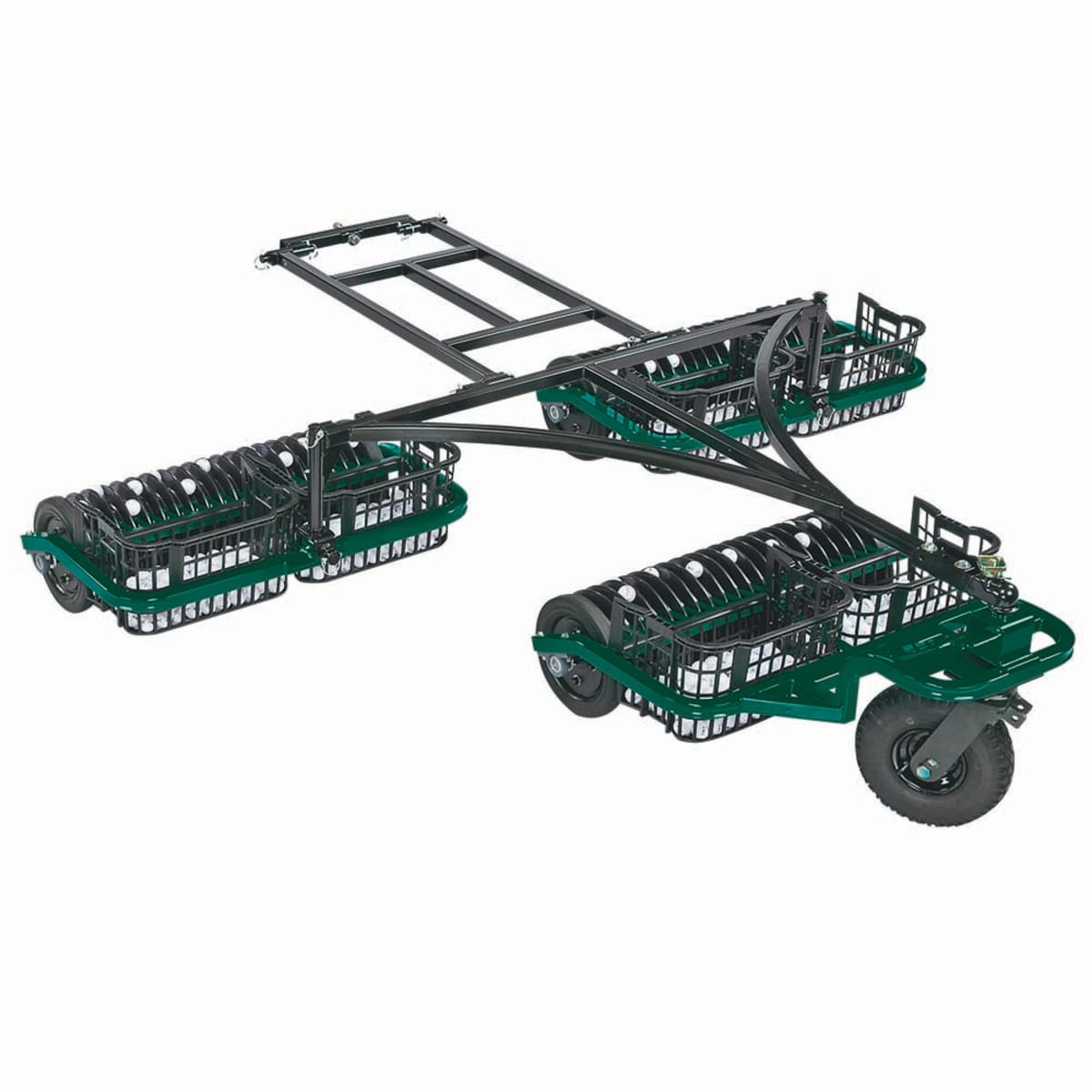 Wittek Range Rover Ball Picker
Available in both a 3 Gang and a 5 Gang unit

Front section, front caster fork and wheel are all in one for the ultimate in Flexibility, Strength, Maneuverability, and unsurpassed reliability. This unit is the only picker on the market that can go in Reverse.  This picker has rubber tires on the first and the last part of each drum section. This helps with minimizing any broken discs, where there is constant turning and pressure put on the drum sections. All in One Swivel Caster Fork provides more control, flexibility and maneuvering ability then any other picker on the market. This picker now comes with plastic baskets that sit in front of the drums. Grease fittings have been placed on all critical wear points to extend the life of the picker. Extra Heavy Duty post assemblies. The only solid steel post assembly in the industry provides greater strength and performance.

This picker is meant for undulated terrain.

Selling Price $ 4678.00
---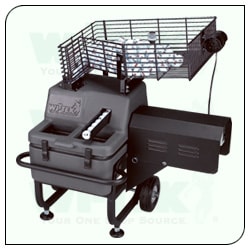 50 G JR Ball Washer
Delivers 10,000 sparkling clean range balls per hour. Over 9 feet of double cleaning power! All weather motor cover protects against sun, rain and weather. ¼  HP high torque gear motor. Soft Touch Brush Lined Drum. Reversible drum to protect against wear and tear on the drum. Basket kickstand keeps the washer open for easy maintenance.

Weight 137 lbs
Tank Capacity 8 Gallons
Hopper Capacity 350 Balls
Motor ¼  HP

Selling Price $ 3615.00
---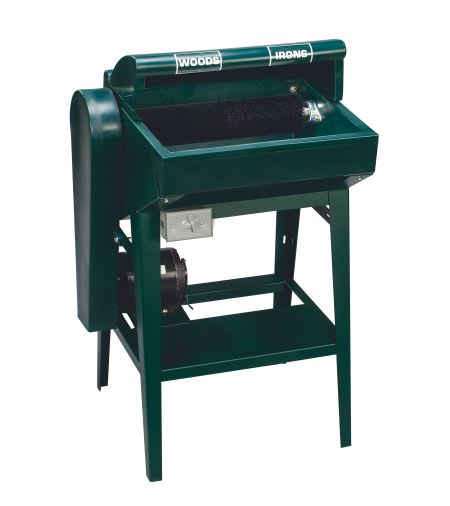 Speedee Club Cleaner
Two rotating nylon brushes. One firm for the irons and one soft for the woods. Tank hold up to 4 gallons. Heavy Duty ¼ HP. Operates on 110 V. Sealed flange bearings assure no freeze up of rotating shaft.

Selling Price $ 2265.00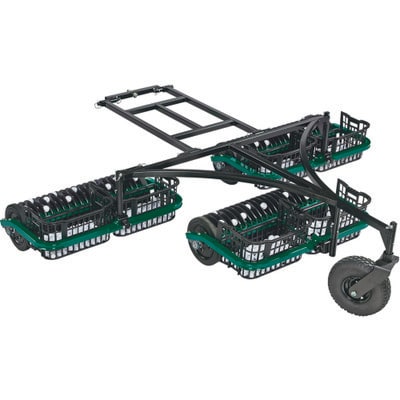 Wittek Ball Hawk
Available in both a 3 Gang and a 5 Gang unit

The Ball Hawk Series ball pickers contour to any terrain. Wittek, for the Highest Standard of reliable service since 1946. Newly designed composite white & black discs. These lightweight, durable discs maximize productivity on the range. Advanced turning system. new engineered tires on each end of the drum, combined with pillow block bearings, provide added reinforcement that greatly maximizes strength and maneuverability. Spring loaded fork assembly. Another Wittek Exclusive 1 ½' square tubing, largest in the industry. A powder coat finish results in high strength and long lasting performance and protection

This picker is meant for undulated terrain.

Selling Price $ 4300.00
---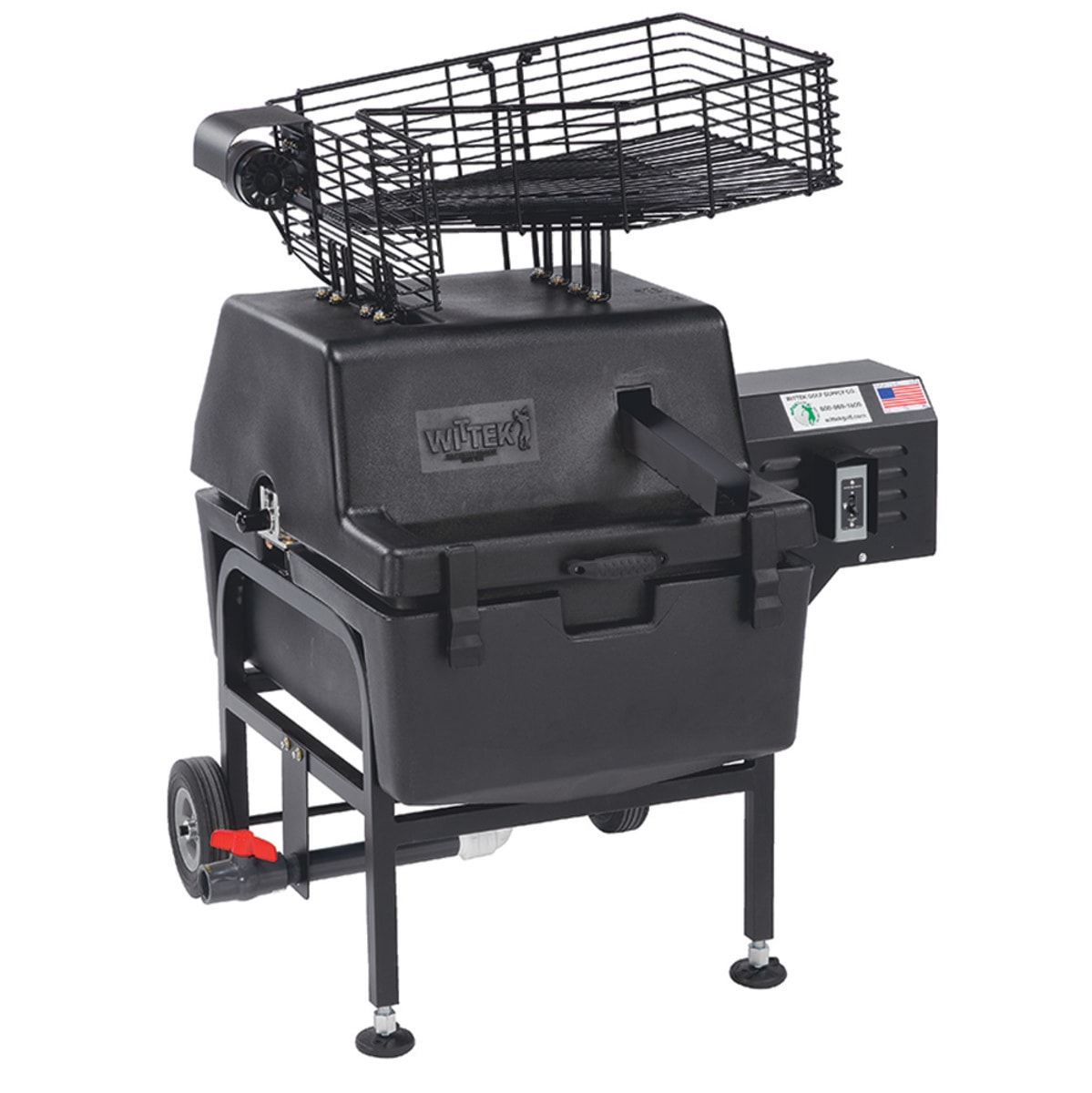 50 G SuperWash
Double the output, delivers 20,000 sparkling clean range balls per hour. Over 15 feet of double cleaning power! All weather motor cover protects against sun, rain and weather. ½ HP high torque gear motor. Soft Touch Brush Lined Drum. Reversible drum to protect against wear and tear on the drum. Basket kickstand keeps the washer open for easy maintenance.

Weight 199 lbs
Tank Capacity 16 Gallons
Hopper Capacity 350 Balls
Motor ½ HP
Selling Price $ 4975.00
---

Wilson Range Ball
Wilson's top range ball is available White with Black Stripes or yellow with Black Stripes. Packed 24 DZ per box

72802 White Ball/Black Stripes
72804 Yellow Ball/Black Stripes
$ 7.00 per DZ
Wilson Range Limited Flight Ball
Wilson's top range ball is available White with Black Stripes or yellow with Black Stripes. Packed 24 DZ per box

72902 White Ball/Black Stripes
72904 Yellow Ball/Black Stripes
$ 7.00 per DZ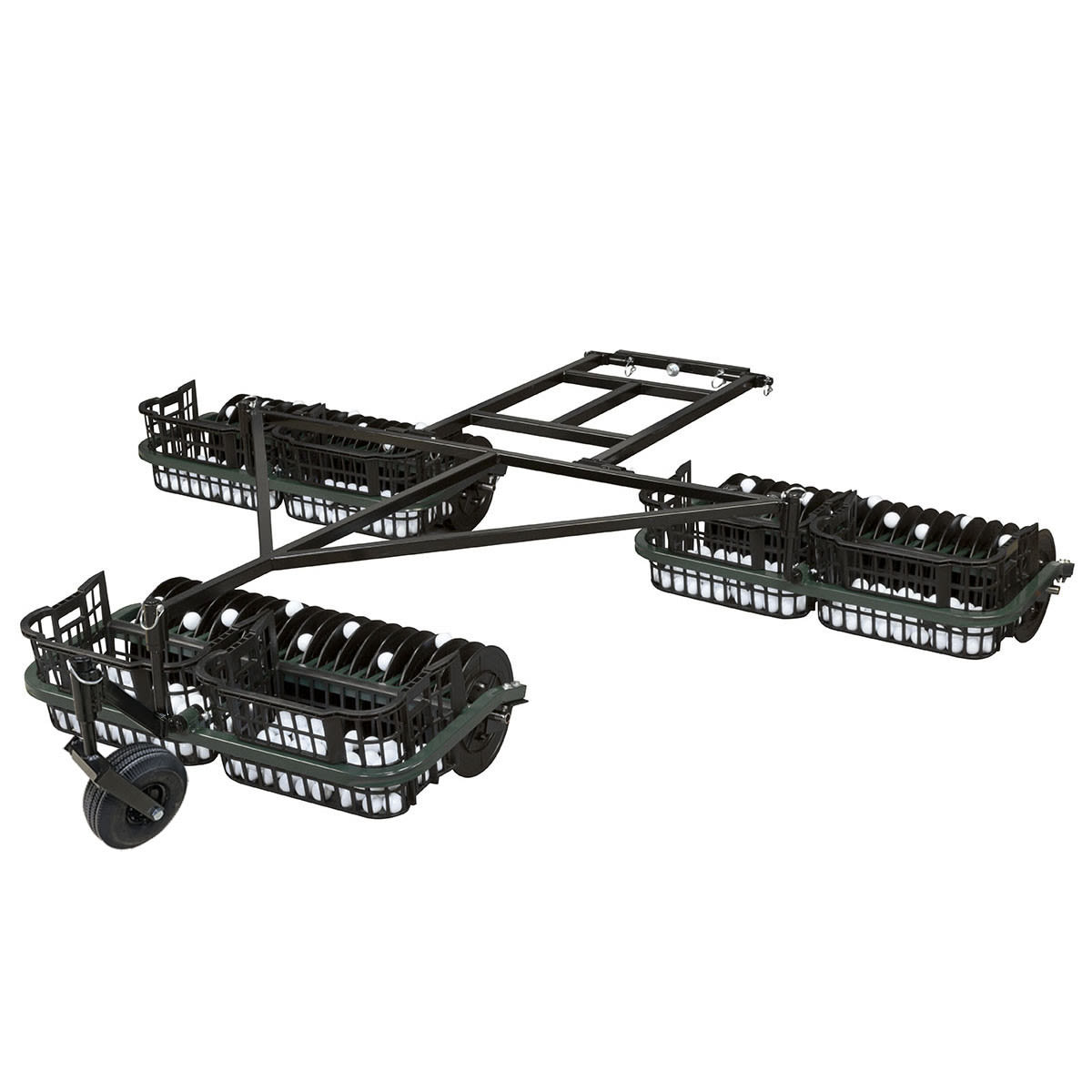 Wittek Eagle Lite Ball Picker
Available in both a 3 Gang and a 5 Gang unit

The lightest ball retriever in the golf market. The Eagle Lite puts less pressure on the cart and allows for faster picking time. 3 Gang Unit weighs ONLY 240 pounds. Bearingless Picker. Durability 1 ¼" Powder Coated Steel framework, all nylon discs, plastic baskets, adjustable axle brackets.

This picker is meant for undulated terrain

Selling Price $ 3625.00
---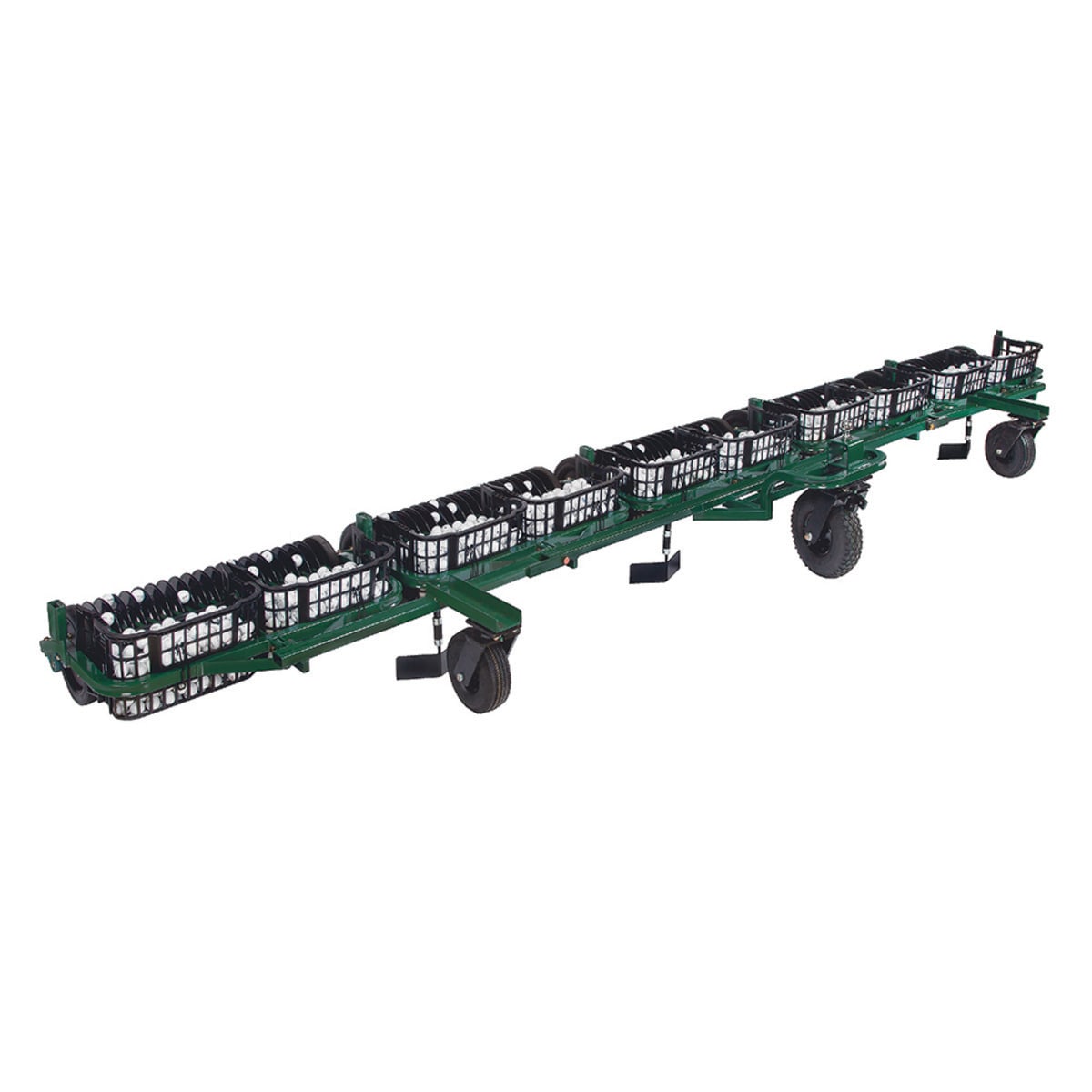 SL90 Straight Line Picker
The SL90 Series has a 360 degree turning radius, allowing for effortless back up and turning. Can be pushed or pulled. Durability Super Strong yet lightweight Tubular steel construction creates a ball picker with unsurpassed reliability. Fewer moving parts and straight line design helps on extra tough terrain. SL90 Junior Lightweight comes with 2 drums. SL90 Senior Lightweight comes with 3 drums. SL90 Super Lightweight comes with 5 drums. Newly designed composite white & black discs. These lightweight, durable discs maximize productivity on the range. Never Miss ball Deflectors, perfectly designed adjustable deflectors means you will never "miss a ball"again.

 This picker is meant for flat terrain

Selling Price $ 4429.00
---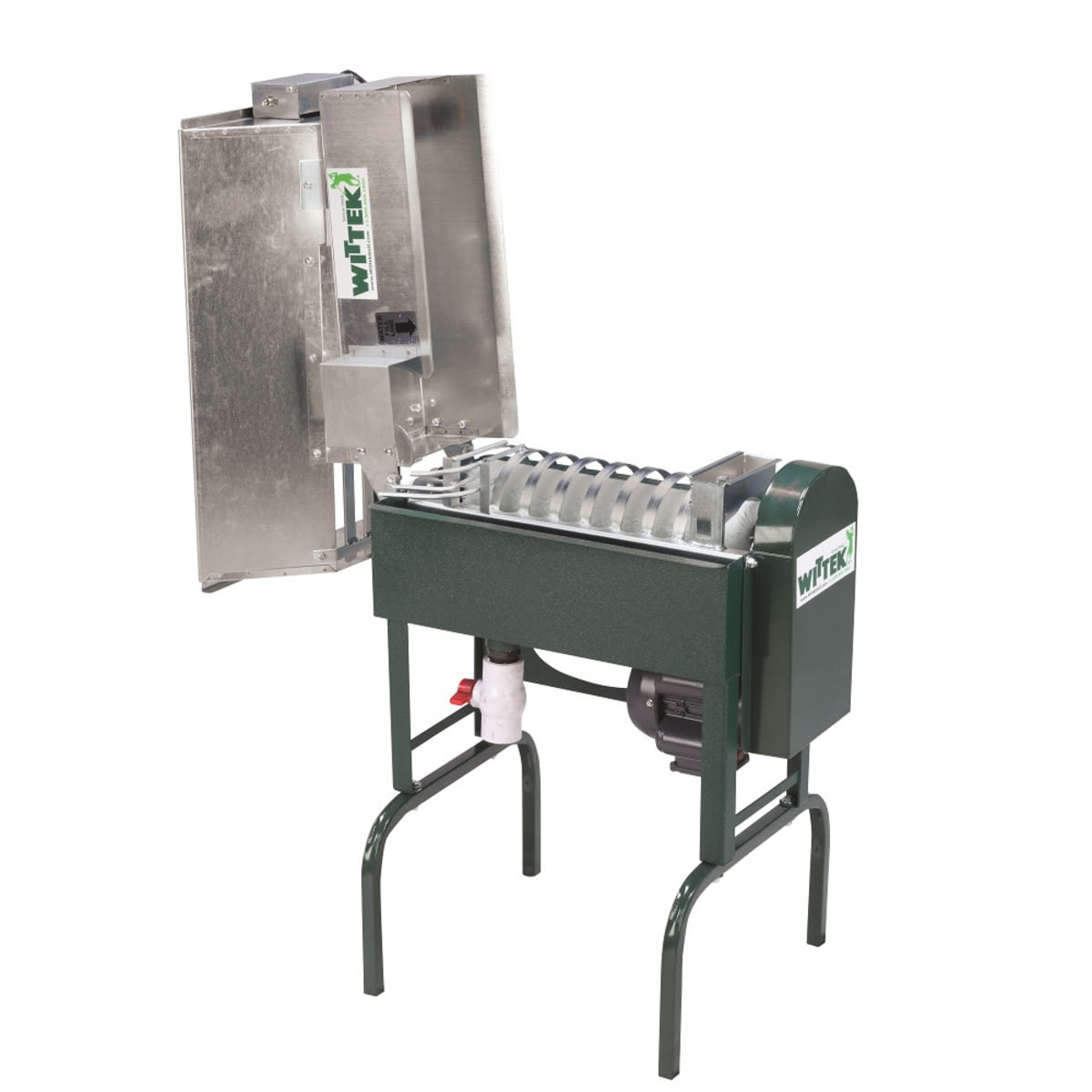 Wittek Twist Ball Washer
The TWIST is the latest addition to our already award winning washer lineup. The Wittek Twist is made of heavy gauge galvanized steel, powerful drive motor and self-contained washer tank. The compact design is the perfect choice for low to medium volume golf courses and driving ranges.

1 yr warranty, drain kit included,Heavy Duty Nylon Brush, Motor is sealed against sun and moisture, Heavy gauge steel,

Cleaning  rate 15,000 balls per hour
Weight 94 pounds
Hopper Capacity 500 balls
Water Capacity 8 Gallons
Motor ⅓  HP

Selling Price $ 2055.00