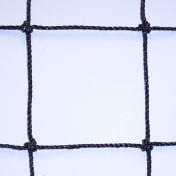 # 15 1 3/4" LIGHT DUTY
Product: Baseball Netting
Fibre : 100% Nylon
Colour : Black or Green
Construction :
1 ¾" Square Knotted
Break Strength : 120 Lb. Test
UV Stabilizer : Weather-Proofing
Average Filed Life:
3 to 5 Years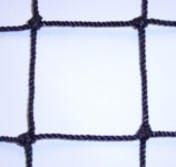 # 21 1 3/4" MEDIUM DUTY
Product : Baseball Netting
Fibre: 100% Nylon
Colour : Black or Green
Construction :
1 ¾" Square Knotted
Break Strength : 200 Lb. Test
UV Stabilizer : Weather-Proofing
Average Filed Life:
4 to 6 Years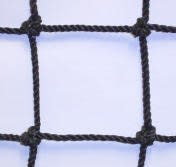 # 36 1 3/4" HEAVY DUTY
Product :Baseball Netting
Fibre :100% Nylon
Colour :Black or Green
Construction :
1 ¾" Square Knotted
Break Strength :200 Lb. Test
UV Stabilizer : Weather-Proofing
Average Filed Life:
4 to 6 Years
Overhead Foul Ball Netting
Material:

Used for overhead baseball and softball fields, above backstops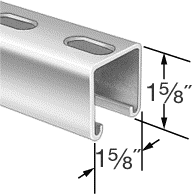 Metal Strut
Description Metal Strut track is 1 5/8" X 1 5/8" and comes in 5' or 10' lengths. This track is used with the metal or nylon rollers to allow the netting to be retracted easily. This product is especially good for heavy baseball netting that needs to be moved out of the way when not in use. 10' sections must ship via Freight Truck at additional charges. 5' sections can ship UPS/FedEx. Please call and speak with a knowledgeable sales representative regarding your project. 1 5/8" X 1 5/8" and comes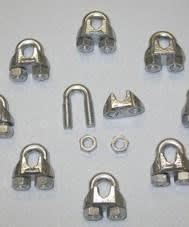 Cable Clamps
These Malleable Wire Rope Clamps are used for cable end terminations. The cable can be looped back on itself and then 2 ea. (recommended) cable clamps placed on the cable to form a secure loop for attaching your cable to an eyebolt or other fastening point. Match up the wire rope clamp size with the size of your cable. Priced per clamp.
●   1/4"+$0.60
●    3/8"+$0.81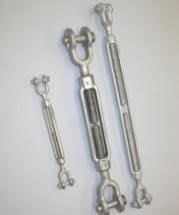 # 21 1 3/4" MEDIUM DUTY
Jaw and Jaw Turnbuckles are perfect for getting the added tension that you need from a cable without having to purchase an expensive come-a-long and cable jack. These turnbuckles, with there jaw and jaw design, can make your cables snug and your netting project fit just right. Always go up one size turnbuckle for the cable you are using. For example, a 1/4" cable uses a 3/8" turnbuckle.
⅜" X 6" take up $ 7.96
½" X 6" take up $ 9.41
3/4" X 6" take up $ 22.13
3/4" X 12" take up $ 30.29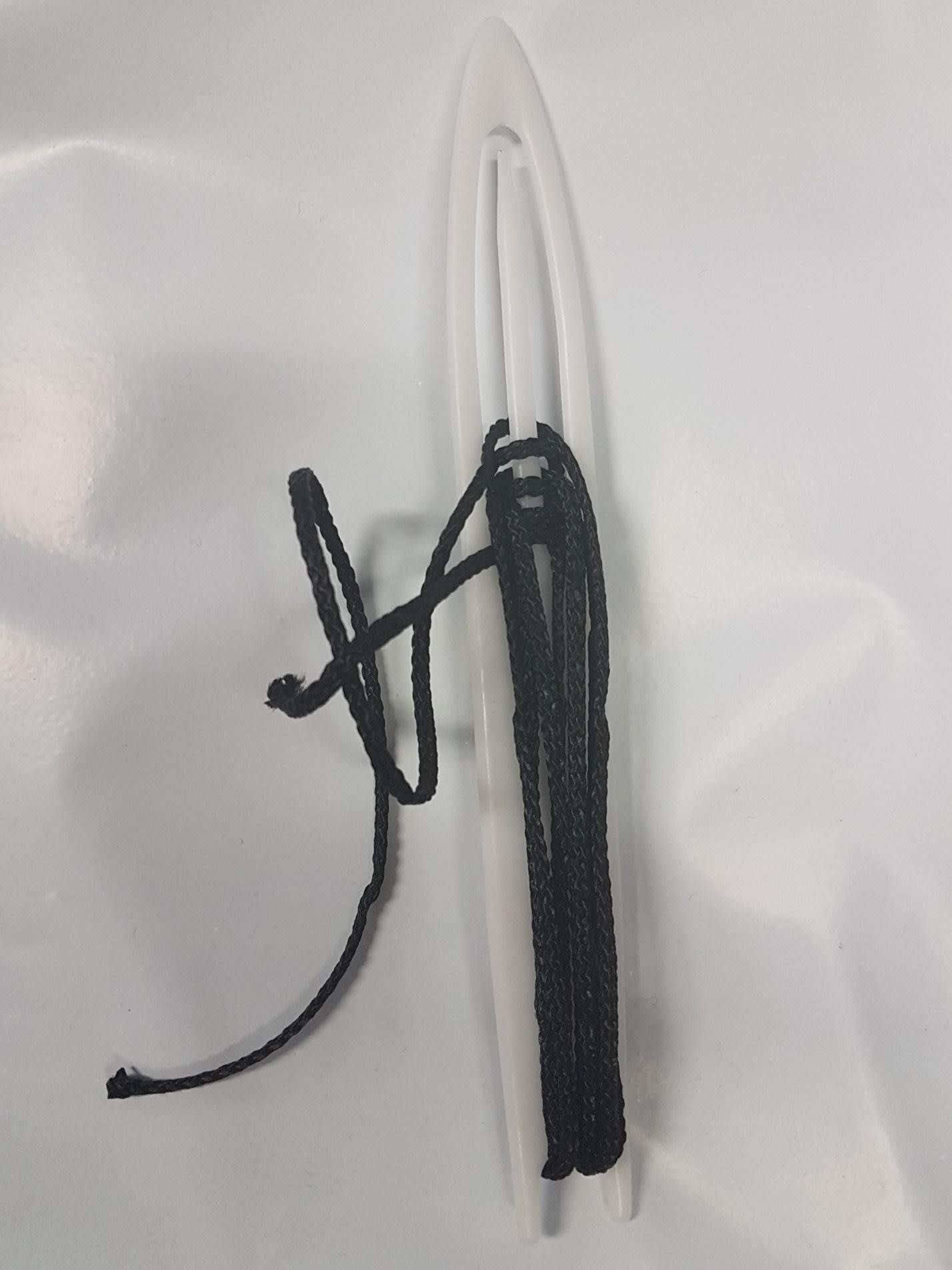 Lacing Repair Needle
The lacing needle will make quick work of lacing a net to a pole, cable, or wood plank and works well to repair holes in netting using our Lacing/Repair Twine.
$ 7.50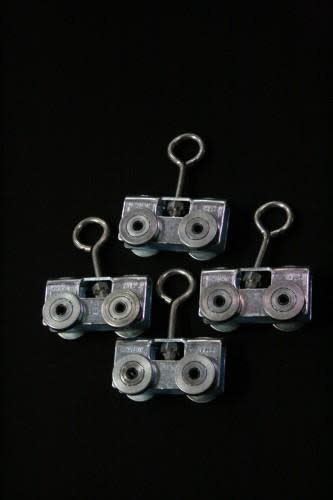 # 36 1 3/4" HEAVY DUTY
The zinc plated steel trolleys with stainless steel ball bearing rollers are a perfect match for the tracks we offer. These can be used to easily slide a net into place when utilizing the space for multiple usage is needed. The trolleys can be used with the lightest or heaviest netting offered. Typically found in indoor batting cages or indoor golf cages. Also used for multiple sport courts with netting for different sized balls when the netting needs to be slid out of the way. We also offer black nylon trolleys that are less expensive but certainly not as durable as the metal trolleys. Both trolleys must be used with the metal strut channel track system. Optimal spacing is 2-3 feet on center.
● High Quality Zinc Plated Trolley with Stainless Steel Ball Bearings - 4 wheel metal body with metal wheels $37.45


●  White Nylon Trolley - 4 wheel metal body with nylon wheels $18.72


● High Quality Zinc Plated Trolley with Stainless Steel Ball Bearings - 2 wheel metal body with metal wheels $18.72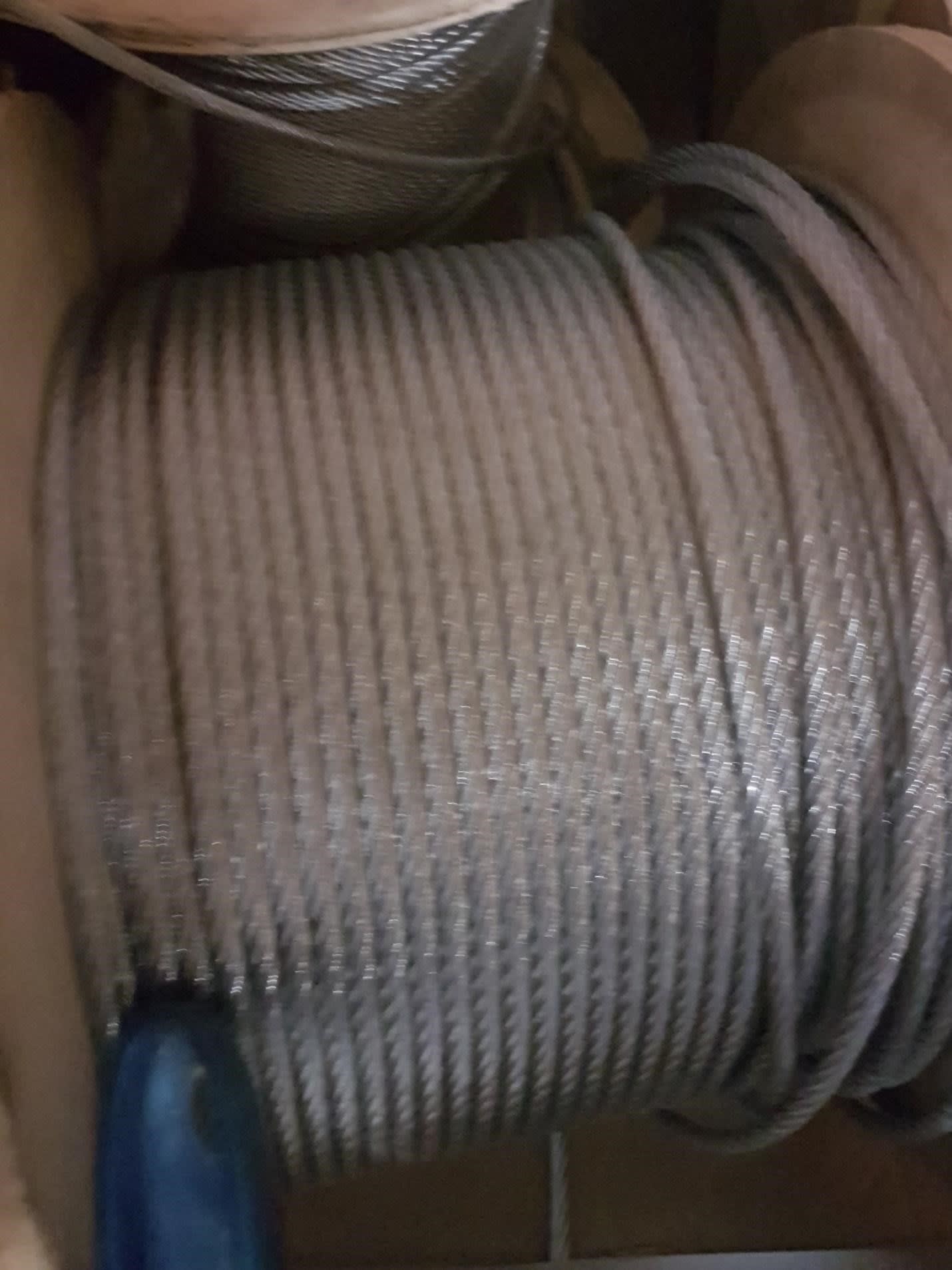 Aircraft Cable
This cable can be used in many different applications for the hanging of your TNSS product or netting element. We supply galvanized aircraft cable only without a coating.. For applications where netting to be slid along the cable, go with an uncoated cable. Stainless steel cable available for near water applications. Priced per foot.
1/4" Uncoated $0.58/ft


Lead Line
Lead line can be installed on the edge of a net to weigh the net down. This product works particularly well with golf driving nets or batting cages. 1 lbs. per 10 linear feet.

We also carry a full line of Baseball Supplies from Pitchers Mounds to Home Plates to Bases and Anchor Plugs for the bases.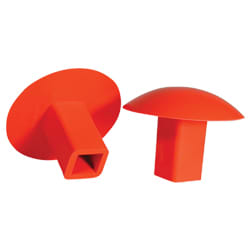 Call and speak with one of our professionally trained netting specialists to discuss your project today. Click the button below for information on our batting cages.