We value each and everyone of our customers and love when they take the time to send us their comments, reviews and testimonials. 
Landscape Turf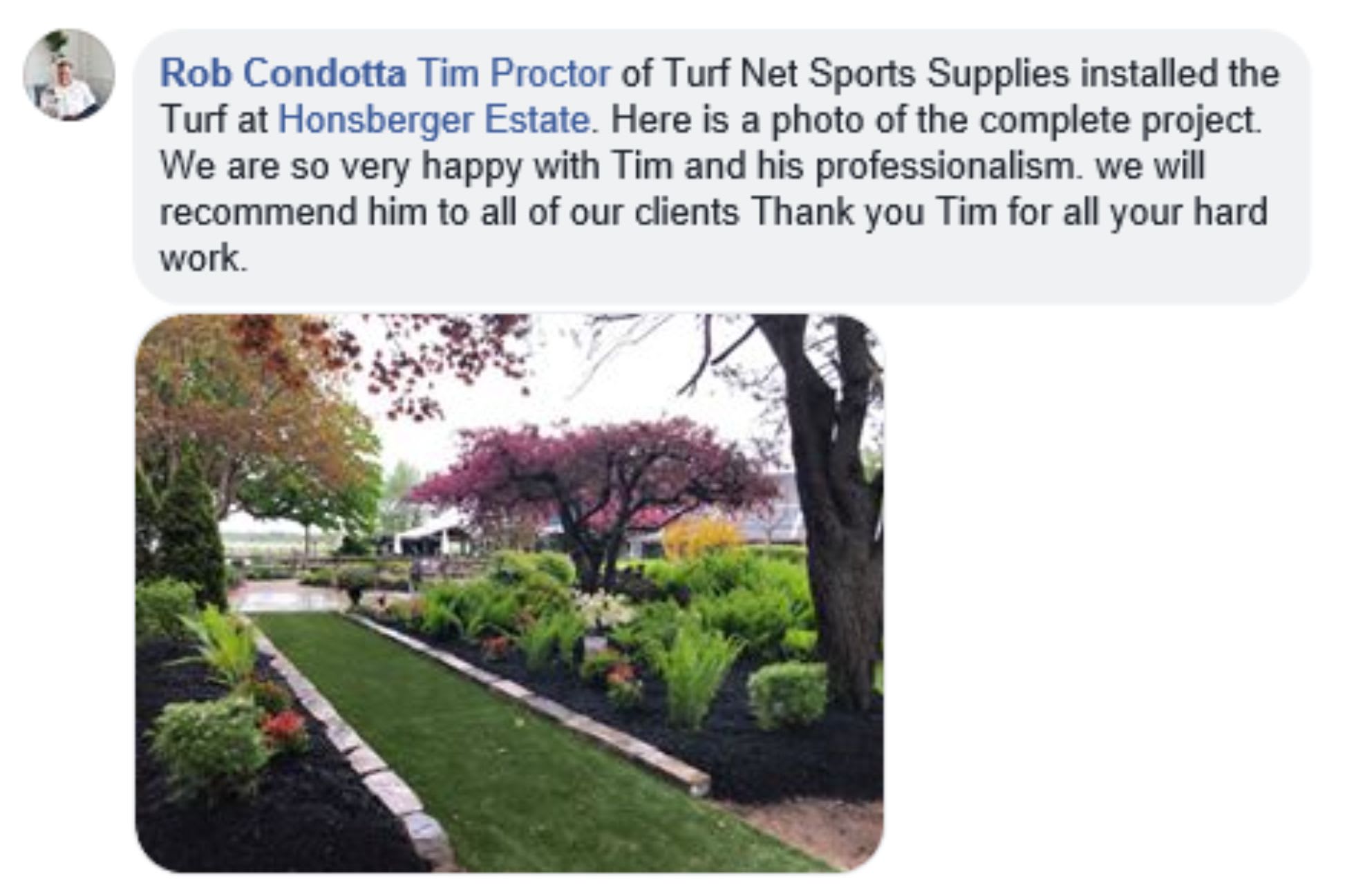 ---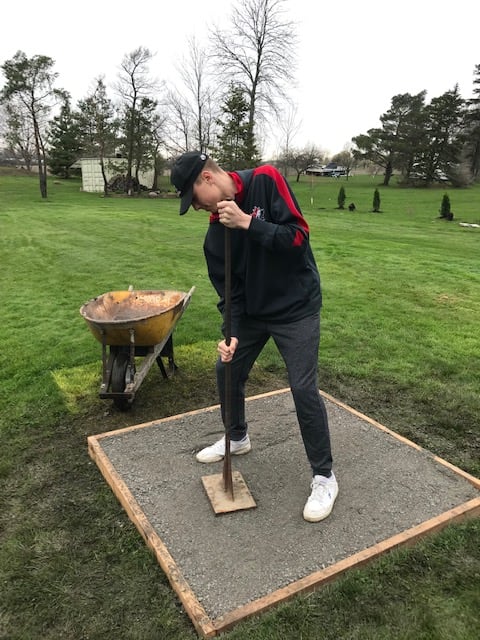 "Turfnet had everything I was looking for to create my own backyard golf experience… and a knowledgeable staff to recommend the proper materials and techniques to do a professional job!"
~ Steve Prokopetz
"We would like to take this opportunity to express how impressed we are with the Turf Net product & services. The installation efforts by the staff of Turf Net Sports Supplies were incredible to witness & the utlimate results are BEAUTIFUL! We are very happy with the personal one-on-one service that was provided, the timely quotes & fast turn around on the work. The product looks so lifelike,...even our friends are amazed & feel it necessary to bend down to touch & feel the product to determine whether it is grass or turf! We can't wait to be able to convert ALL of our sod to Turfnet turf some day & we look forward to years of mainteance free, beautiful & attractive "GREEN" landscape. Thank you again Turfnet! ."
~ Yass & Stephanie Leheta
"The turf that your company installed on our large upper deck that overlooks Lake Ontario still looks as if it was installed yesterday. Since we are completely satisfied with the appearance and feel of this product we have used this area a great deal since your turf was installed. While we are very pleased with the end result my wife and I want you to know that we were also impressed with the efficiency of your staff. Your estimator arrived on time, the turf was delivered as scheduled and the installer did his work efficiently and on the day arranged for the installation. It was a pleasure doing business with a firm that recognized that my time is also valuable. A follow up phone call from your firm was appreciated."
~ Homeowner
"It has been a pleasure working with you from the intial meeting to installation to post-installation inspections. We are very pleased with the quality of the turf that was installed. The knowledge and education that you have provided us at the beginning to choose the right turf for our students was very thorough. As promised, the delivery was on time and the installation went very smoothly.
The students have been using the turf to play sports on a daily basis and it looks like it has just been installed! Whenever parents or other institutions ask where we got the turf from, we have no hesitation telling them about you."
~ Wynn Looi, Operations Manager, Bronte College
Hockey Netting
Netting on rink looks great. Thank you so much for your awesome product and even better customer service.
~ Sederoff Family
Soccer Netting
We were quite pleased with the performance and compatibility of your soccer net product as a replacement option for our Scoremaster inventory. Considering your competitive prices and product satisfaction, we are happy to continue to turn to TNSS for netting replacements.
~ City of Waterloo
Power Cage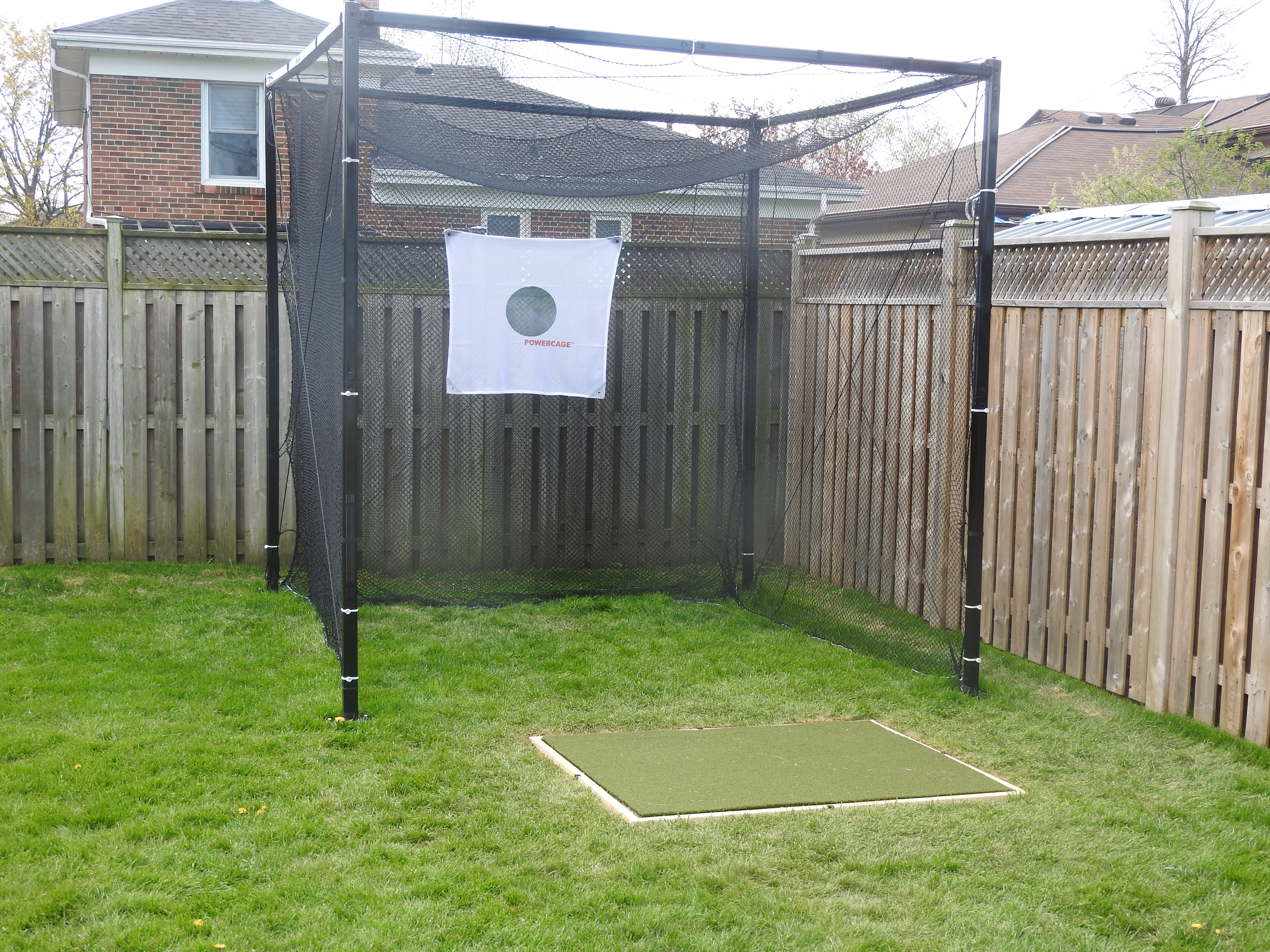 I purchased a Power Cage from Tim at Turf Net Sports Supplies and I am happy with the product so far.  I had ordered a product from a different vendor before speaking with Tim but after our initial conversation, I was confident that the Power Cage was more in line with what I had been looking for.  It arrived within a week of having placed the order and included all components needed for installation.  There was a minor issue with one of the corner brackets and Tim promptly sent a replacement.

I will admit, it took me a while to figure out all eight corners of the one-piece net but frame assembly was fast due to the lightweight structure and intuitive snap-in brackets.  It really reveals itself once you have secured the feet (hammer required on grass) and fastened the tension ropes!

The double-sided impact wall easily collects my driver shots, the inset net ensures no internal pole ricochet and I like having freedom to swing away.

Best regards, Nicholas
Barrier Netting
"This is our net and our turf that he is hitting off of. Custom made using Tee line Turf and our Landscape  Turf."
~ Steve Prokopetz
Netting
"I'd like to thank you for your help with the netting. It's installed and looks great! Very nice product!"
~ Chad Charbonneau, Whistle Stop Golf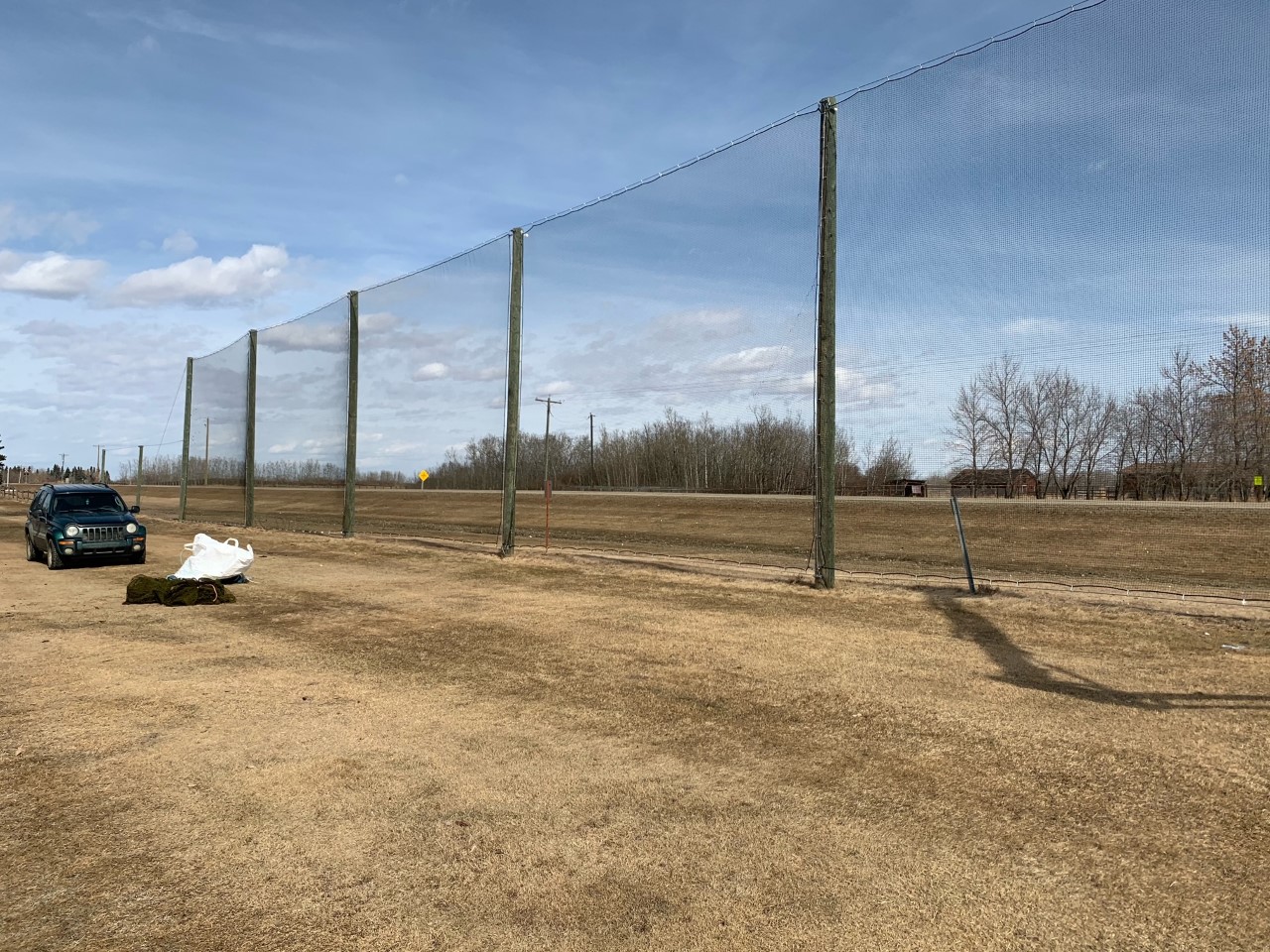 ---
"Turf Nets Sports Supplies was instrumental in our process of bringing the first indoor baseball/softball training facility to Newfoundland and Labrador. They're expertise and service were top notch, along with their ability to teach our staff on how to ensure all cages and nets function properly."
~ Noah Anderson, Premier Sports Academy
Read More here: 
---
"WOW" the job you did looks amazing the client is happy thank you for helping me with this project and look forward to many other future projects together.
~ Aaron McDonald, Bramalea Fence
---
"We've worked with Tim and Trevor at Turf Net sports exclusively for over 5 years.  The netting quality is awesome and the service we get from Trevor is even better.   They are always willing to do what it takes to get the orders filled and delivered on time."
~Aaron Hardy, President Foresight Sports Canada
---
Turf Net Sports provided an outstanding product for my specific needs. The order was customized to exactly what I require rather than only selling one specific size. Any challenges that arouse during the process were dealt with quickly. Overall satisfaction from the golf professional. ~ ~ Briant Gallant - CPGA, BG Golf Acdemy at FireRock, London, ON
TNSS was selected based on high quality, short lead times, excellent customer service and the availability of the industry's highest quality of netting and driving range equipment. ~ Mohender Anand, Club 6 Practice Facility
Putting Greens
Hey Tim, I just wanted to drop you an email to let you know how impressed I was with both the product and the service you provided. From the first day of you guys running me through the process until the last touches of the finished product you and your staff couldn't have been more professional. We have had countless great nights with the green and it's always a favourite conversation piece of anyone new to the house.
Thanks again,
~ Sean Hannaway
"I wanted to just send this note to express my satisfaction with the Putting Green your company installed at our range last fall. After contacting several synthetic putting green companies, we selected Turf Net Sport Supplies to do our practice putting green. From our initial contact to the professional conduct of your installation crew, to the end result, we were very pleased that the putting green at Joshua Creek is what I had visualized when we met. Our new putting green will be of benefit to all the golfers that visit Joshua Creek to work on their game as well as an added feature for the teaching Professionals for their clinics and putter fittings. I have no hesitation in recommending Turf Net Sport Supplies to anyone wishing to have an artificial putting green in their backyard or as a practice putting green at their facility." "
~ John Davis, CPGA Professional, Joshua Creek Golf & Tennis
"I want to take this time to thank Tim and his installation manager Derek for the wonderful job that they had done with helping to build our dream cottage. The putting green that Turf Net Sports Supplies had installed at our cottage was the icing on the cake. TNSS was very professional from the first meeting that we had to the completion of the 6 hole putting green, sand bunker and chipping area. What they communicated including budget were right on the money. In the 20 years of being in the golf event business, the team at TURF NET understood my wish list needs process from start to finish."
~ Rudi Tomiczek - Admark Sports
"Even though, we only had a small putting green and chipping area installed in our backyard, Derek treated us like we're golf course owners. He is very professional, courteous, punctual, and meticulous. We are more than happy with our purchase. People who visit of all ages enjoy it. Not only is it no maintenance and looks professional, it makes the backyard look great."
~ Mike & Marisa Pisano, Thorold, ON
"The quality and display of our putting green is exceptional. Installation was fairly simple, and the staff was very pleasant to work with. I highly recommend this product for indoor instruction, or even practice at home."
~ John Billiter - PGA, Head Golf Professional, Sportsman's Country Club
"We were very happy with the golf green that was installed at Blue Lagoon Villa, Mahoe Bay, Virgin Gorda, British Virgin Islands. Actually, the green exceeded our expectations – the base and green were installed perfectly Some holes had some slope, which we requested, making it that much more fun to play. Derek worked very well with the neighboring Villa to ensure machinery was only used when they left for an hour or two. I would definitely recommend TNSS. Well done."
~ Craig Marthinsen - Toronto, ON
"I just wanted to thank you for the help in sending me all the information to help me in my process in putting in my putting green ---Your company went above and beyond in helping me where no other company would give me the assistance that your company did. Thanks again for all your help and your staff too! I am sure I will be seeing you again. We absolutely love our putting green. The green is amazing. We love it.....it turned out better than we thought. erek has been great to work with. Thank you for everything!!!We will be definitely be passing your company information on to other friends."
~ Karen
"Thank you for stopping by today and working on the green. As soon as Terry got home he went right out back and said "Wow, this looks great".
~ Jane - St. Catharines, ON
"Over 10 years ago Turf Net Sports installed a 9-hole accessible miniature golf course at Heartland Forest. This was a long-time dream of our founder, Dan Bouwman. The course has been used by thousands over the years and was in need of a significant overhaul. Tim Proctor and his crew did a beautiful job installing the new turf – it looks amazing! We can't wait to re-open so that all ages and all abilities can once again enjoy a game of mini-putt in the great outdoors."
~ Elisabeth Graham - Executive Director, Heartland Forest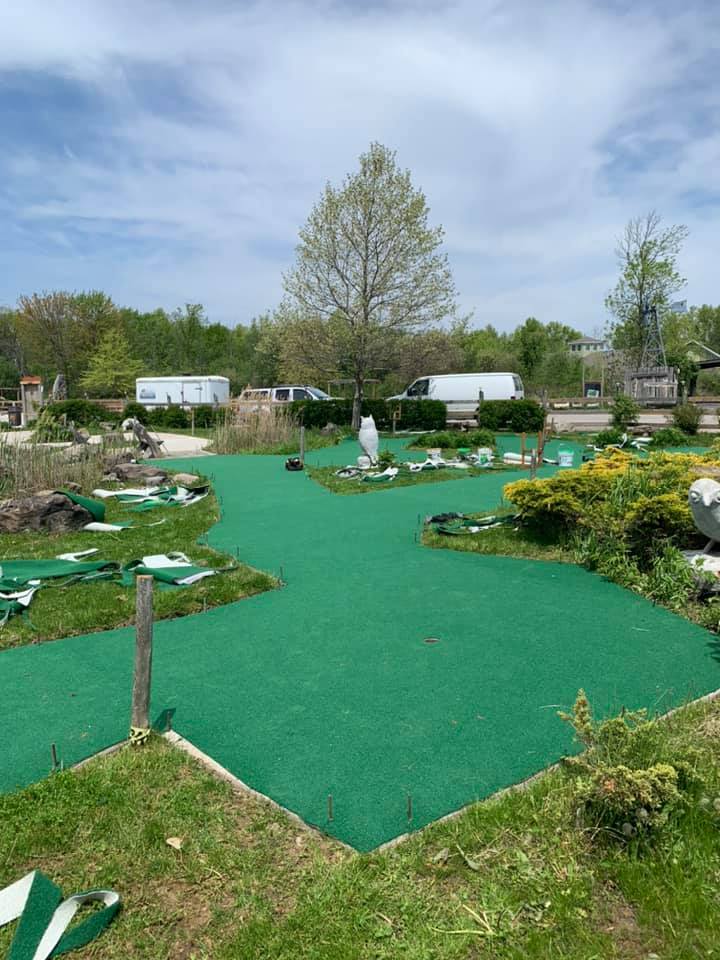 Golf Course Supplies
Your products have lasted us forever. We buy from you because we know we are getting quality products that will last us a long time. Have a great day. ~ WAYNE PETERS, HAMILTON GOLF & COUNTRY CLUB
Driving Range
Hooked up the new Range Rover haven't tried it yet but looks like a beast. Can't wait for attachments. Should have switched from easy picker years ago. What's time frame to get another complete 5 gang . Appreciate quick service. Thanks ~ John Fagan 19thtee Ltd.
Miniature Golf
I just opened my first mini putt golf course and the staff here especially Trevor has been extremely helpful with his knowledge and professionalism. It definitely made our ordering process and business opening process very smooth. I highly recommend you call them first so you can understand what I mean. ~ Greg Gallello, Yogen Fruz
As a small business owner there is nothing more important to a business than it's employees and suppliers. If you do not have employees and suppliers that care about your business then you are guaranteed of having a failing business. Tim and Trevor at Turf Net Sports have been an extremely caring and a reliable supplier of all my miniature golf needs for decades. They will go the extra mile to make sure you are taken care of and 2 of the nicest people you will ever meet! Good service should always be what is first priority when choosing your suppliers and Turf Net Sports is the BEST! ~ DENISE RALPH, General Manager, ADVENTURE VILLAGE
Tim and Trevor at Turf Net have been instrumental in many of the changes we've made at our business over the past couple of years. They've done big projects for us like installing the turf on our new mini golf course, installing new safety netting on our driving range tee, repairing our range nets after winter ice damage, and bringing in a brand new automated range ball dispenser - plus installing the turf and hitting bays for the John White Golf Learning Centre on our lower clubhouse level - not to mention all the "little" things we always need from them, like running over extra mini golf putters and balls when we ran short, and all the assorted golf and range supplies they have on hand or at a moment's notice. They don't stop at "good enough" - they keep pushing to the end to make sure the final product they deliver is nothing short of perfect. They hold their standards extremely high and they've earned my business and my trust in knowing they won't let anything slide. Thank you Tim and Trevor! ~ JENNIFER JULIE, BROCK GOLF COURSE
Impact Web
Trevor just finished our job and it looks great!
~ JAKE, THE PERFORMANCE LAB.
Baseball Netting
Our training facility is now complete with the hanging of our batting cages from Turf Net Sports Supplies. Tim and his gang came through with exactly what we needed for our baseball facility, at a reasonable price.
~ Gerard Burke - President, , Brantford Minor Baseball Association
Turf Net is a outstanding business in the Niagara region. They have done a outstanding job with the 7 batting cages at BP Sports Park in Welland Ontario .Thanks Tim you are making the kids at Bullettproof Baseball Academy dreams come true. 
~ Scott Bullett - BP Sports Park, Welland 
Equestrian Hay Nets
"We have been using five of your hay nets for some time now and want to relay the results to you.  They are custom nets with 2" mesh installed in raised round bale feeders as seen in the attached photo. 

We initially ordered the nets to help 2 horses that were experiencing chronic respiratory problems, both of which were on strong medications and could not be ridden.  After we installed the nets one horse was able to be taken off all meds and could be ridden again while the other older horse show marked improvement in it's breathing and is medicated less and can also be ridden lightly.

 We also noticed that while the horses were on nets they wasted almost no hay and created  less of a mess.  But would the hay savings cover the cost of the nets?  We heard from a friend that his net lasts about one year feeding 4 large horses.  We decided to do a little study using 12 healthy horses in 3 paddocks to see how much hay the nets would save.

For 76 days in mid winter we fed 12 horses  4X5 round bales in 3 raised hay feeders without hay nets. They consumed 37 bales.

For 76 days in mid winter we fed the same 12 horses 4X5 round bales in 3 raised hay feeders with hay nets. They consumed 28 bales.

During  76 days in mid winter the 3 nets saved us 9 round bales or about 24% of our hay.

We have been keeping consumption data for 10 years and know that 12 horses will typically consume 144 round bales per year.

It appears that the hay nets save us about 24% of our hay so for these 12 horses we should save about 35 bales over one year using 3 hay nets or about 12 bales per net.

We have been growing and selling hay for the North American horse industry for over 20 years and the price of a round bale is highly variable.  Last year we sold 4X5 round bales for $35, this year we are selling them for over $80.  Initial results show that the hay nets pay for themselves if the price of a round bale is $21 or more and the nets last one year feeding 4 horses.

We have 35-40 horses using 5 hay feeders with nets and 5 feeders without nets in 10 paddocks.  We will continue to monitor hay usage and the wear and tear on the nets to see if these incredible results pan out over time."
~ Rob McLaughlin, Celtic Roots Equestrian
"I got one of your round bale nets in 2010....I STILL HAVE IT!!! It has saved me so much wasted feed. I am patching a hole weekly (didn't know you had repair twine)...but thats not a big deal. I was looking for a slightly larger one and could not find your contact info, since it had been so long. I ordered a net from another company that literally did not last a day. My round bale is on rubber floor, and barefoot horses that do not paw. The competitor net material was so soft/weak it was a complete waste of money....even in such a safe environment."

~Marybeth