At Turf Net Sports Supplies we get miniature golf facilities have different requirements. For this reason, we have a catalog geared to your unique requirements.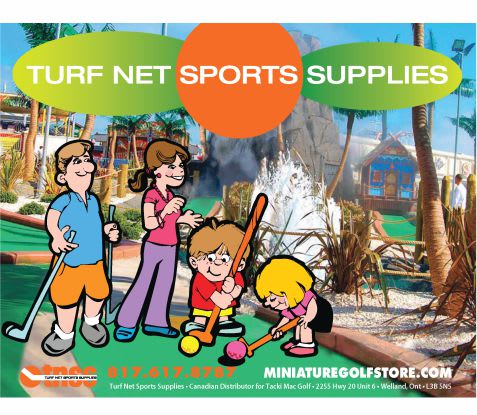 Miniature Golf Store
We are your one-stop-shop for all mini-putt supplies and equipment -- check out our catalogue below. 
Other Products 
Turf Net Sports Supplies can also provide your putting greens, turf, driving range accessories and more. 
Your Mini Putt Experts
Whether you require supplies to run your facility or replacement turf or a new hole/green built, we are here to help. 
Contact Us
Miniature Golf Courses
If you are looking to replace the turf on your miniature golf course, or looking to redesign and build a new hole or course, the experts at TNSS are there to help. We can supply and install everything you require to complete the project. 
Brock Golfland
Check out this aerial view of a course Turf Net Sports Supplies built in the Niagara Region, Ontario. The video was done the day of the grand re-opening.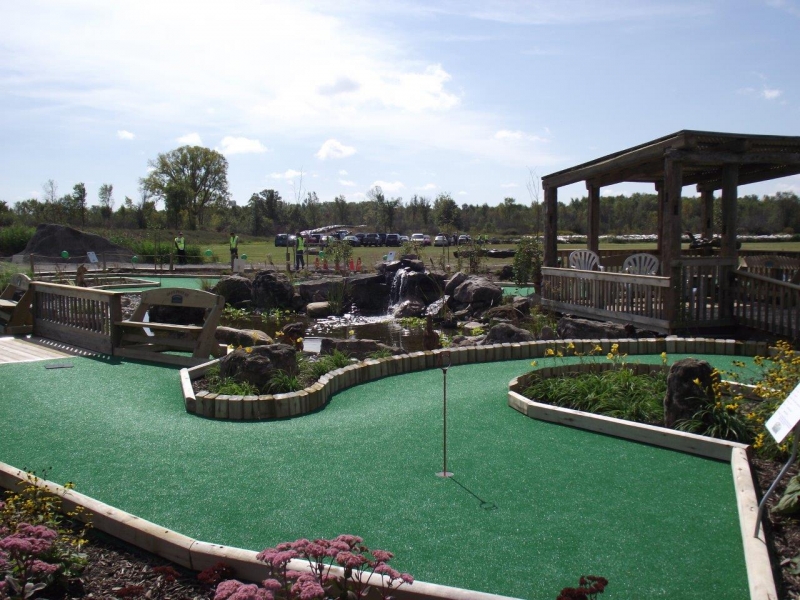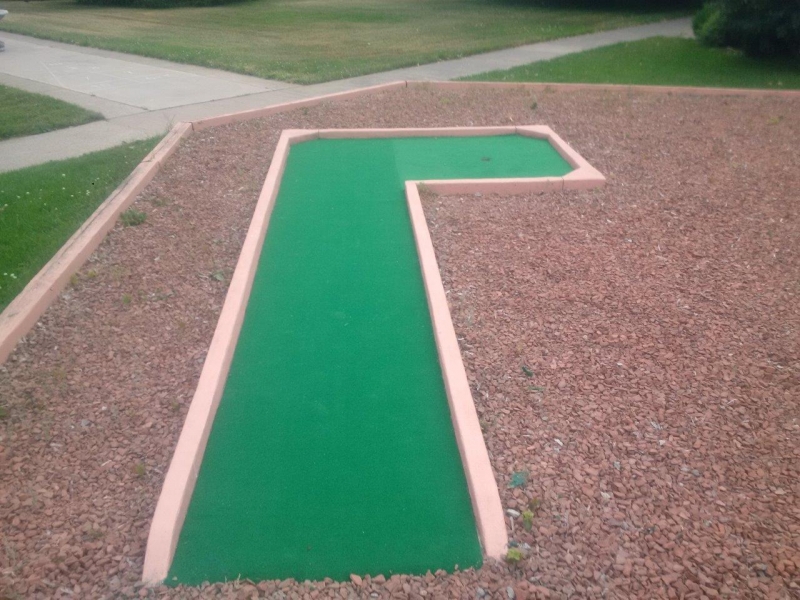 I just opened my first mini putt golf course and the staff here especially Trevor has been extremely helpful with his knowledge and professionalism. It definitely made our ordering process and business opening process very smooth. I highly recommend you call them first so you can understand what I mean.
Miniature Golf Catalogue
Note: This may take a few minutes to load due to the size of the file. Best viewed on a desktop computer.
Turf Products Available for Miniature Golf Courses
TN-Fairway II
is a 24 oz product that is made from Polypropylene Fibrillated yarn. it is for medium traffic. It is tufted using a 3/16 gauge with a ½" Pile Height. This turf is available in 12' goods only. 5 year fade Warranty and a 5 Year wear Warranty. Available only in Palm Green. Installation over concrete or wood
TN-Fastbreak
is a 39 oz total face weight product that is made from 100 % UV Olefin. It is tufted using a 1/10" gauge and measures 3/16". The backing is action back. The product is available in 12' wide goods only. Installation over concrete or wood
TN-ACE
is a 43 oz product made from Polyurethane. It is a 43 oz total face weight. The pile height measures 10/32" and is available in 12' W goods Only. Color Forest Green. Installation over concrete or wood or aggregate base.
TN-Ultra
is 36 oz. per sq/yd of 4200 denier 8-ended Texturized Nylon having, tufted at 7/16" pile ht 2 layers of 13 pic polybac as the primary backing and a rubberized secondary backing with action bac. Available only in Verde Green. Cost is $3.20 per sq/ft FOB Calhoun, GA. *ULTRA TURF does not require infill. Installation over concrete or wood or aggregate base.
TN-True Putt 307
is a 100 % Nylon product. It is an 81 % per square yard/face weight. Rol width is 15' Wide goods. Color Pine Green. Installation over concrete or wood or aggregate base.
TN-Rough Turf
100 % Polypropylene 528/650 denier. Tufted using a ⅜" gauge with a pile height of 1.5". Backing is made from woven Polypropylene with a secondary backing being Urethane.Total Face Weight is 57 ounce. Available in 12' Wide goods.