When safety is your #1 priority at your trampoline facility, call the experts at Turf Net Sports Supplies.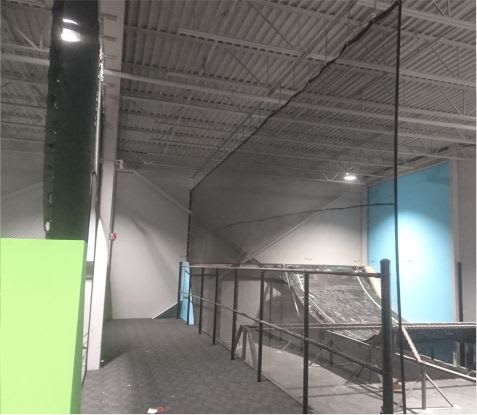 Safety is the #1 Priority
Netting is an investment for the safety of your guests when enjoying the fun and exercise your trampoline centre offers. Our 24-gauge, no-climb netting offers that security to your facility. We can also sew a 3/8" rope border to the outside perimeter or do a finished tape and grommet edge to complete the finish. 
Installation / Maintenance Instructions
Call and speak with one of our professionally trained installers to get a free no obligation quote.
Request A Quote
Contact Us
Securing Your Netting 
The netting specialists at Turf Net Sports Supplies can assist you in specifications and netting requirements for projects big and small. Our expertise will have your project completed on-time and on-budget. 
Contact Us
1/4" No-Climb Debris Netting
PRODUCT DESCRIPTION: 24-GAUGE RASCHEL (12 needles/ inch), elongated honeycomb hexagon (32spi). Approximate 1/4" openings.
YARN SPECIFICATIONS: 85% - 1000 Denier Dacron Polyester  15% - 150 Denier Dacron Polyester
BURST STRENGTH: 120 psi
BREAK STRENGTH: 180 lbs. (warp), 82 lbs. (fill)
SELVAGE: Single
MESH SIZE / YIELD: 1/4" = 43 SQ. FT. / LB.
WEIGHT: 0.23 lbs per square foot
COLOUR: Black
FINISH: Fire Retardant

BORDER SPECIFICATIONS: TYPE: Machine wrap
SIZE: 3/16" three-strand twisted nylon
YIELD: 135 feet per pound
TENSILE: 1145 lbs.
COLOUR: Black
Request A Quote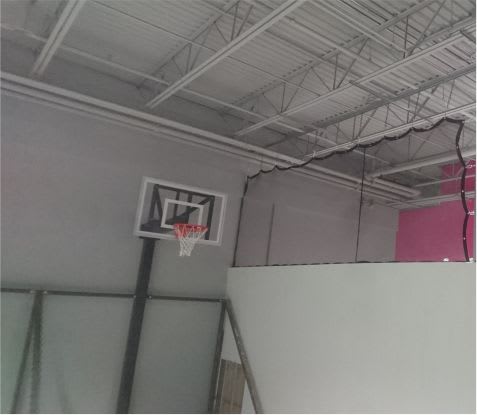 I'd like to thank you for your help with the netting. It's installed and looks great! Very nice product!






Trust the Experts At Turf Net To Get The Job Done!