There is a difference between indoor and outdoor cricket nets - talk to our netting experts here at Turf Net Sports Supplies to ensure a professional project each and every time.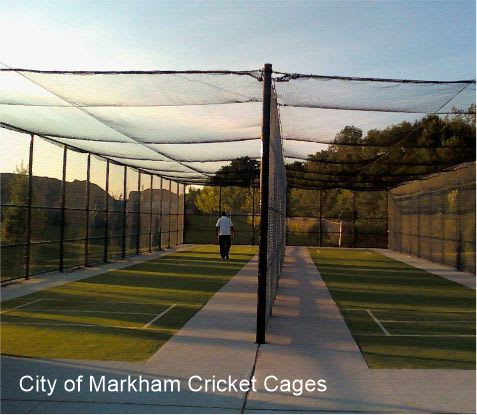 About Cricket Netting
A cricket net is a practice net used by batsmen and bowlers to warm up and/or improve their cricketing techniques. Cricket nets consist of a cricket pitch (natural or artificial) which is enclosed by cricket nets on either side, to the rear and optionally the roof. The bowling end of the net is left open. Cricket nets are the cricket equivalent of baseball's batting cages, though fundamentally different, as baseball cages provide complete ball containment, whereas cricket nets do not.
Products Available
Polyethylene Netting can be used indoors as well as our High Impact Knotless netting.
Request A Quote
Contact
Additional Products
We can supply you with all of the hardware needed to turn your warehouse in to a cricket facility. We are a one stop shop, where you can purchase all of your netting needs.
Contact
I'd like to thank you for your help with the netting. It's installed and looks great! Very nice product!











Indoor Cricket Nets
Indoor cricket nets differ significantly from outdoor nets. They are often suspended on an aluminum track way (runners) which are fixed to the ceiling of an indoor facility. The nets can then drop 8-12 feet to reach the ground, before travelling at least 60 feet in length, which provides a substantial practice enclosure. Indoors nets are commonly multi lane, with 2 or 4 bay nets being particularly common.
Unlike outdoor cricket nets where the netting is black, indoor nets tend to be white. They have a separate canvas screen which enclose the area immediately surrounding the batsman and rise to a height of 9-10 feet.
The purpose of this is twofold; the netting to the sides and rear of the batsman has by far the highest work rate, canvas is significantly more durable to tradition mesh netting and as such the use of screens improves the life span of the net. The second is from a simply privacy aspect – the impression of seclusion allows for more focused batsman and reduces the risk of distractions. Indoor cricket nets will be found in almost all sports halls and gyms where the suspension on runners provides a curtain type system for the nets and allows the nets to be pulled in and out of use.
The flexible nature of these nets allows for multi-sport use of sports halls which is fundamental to the success of all commercially operated sports centers.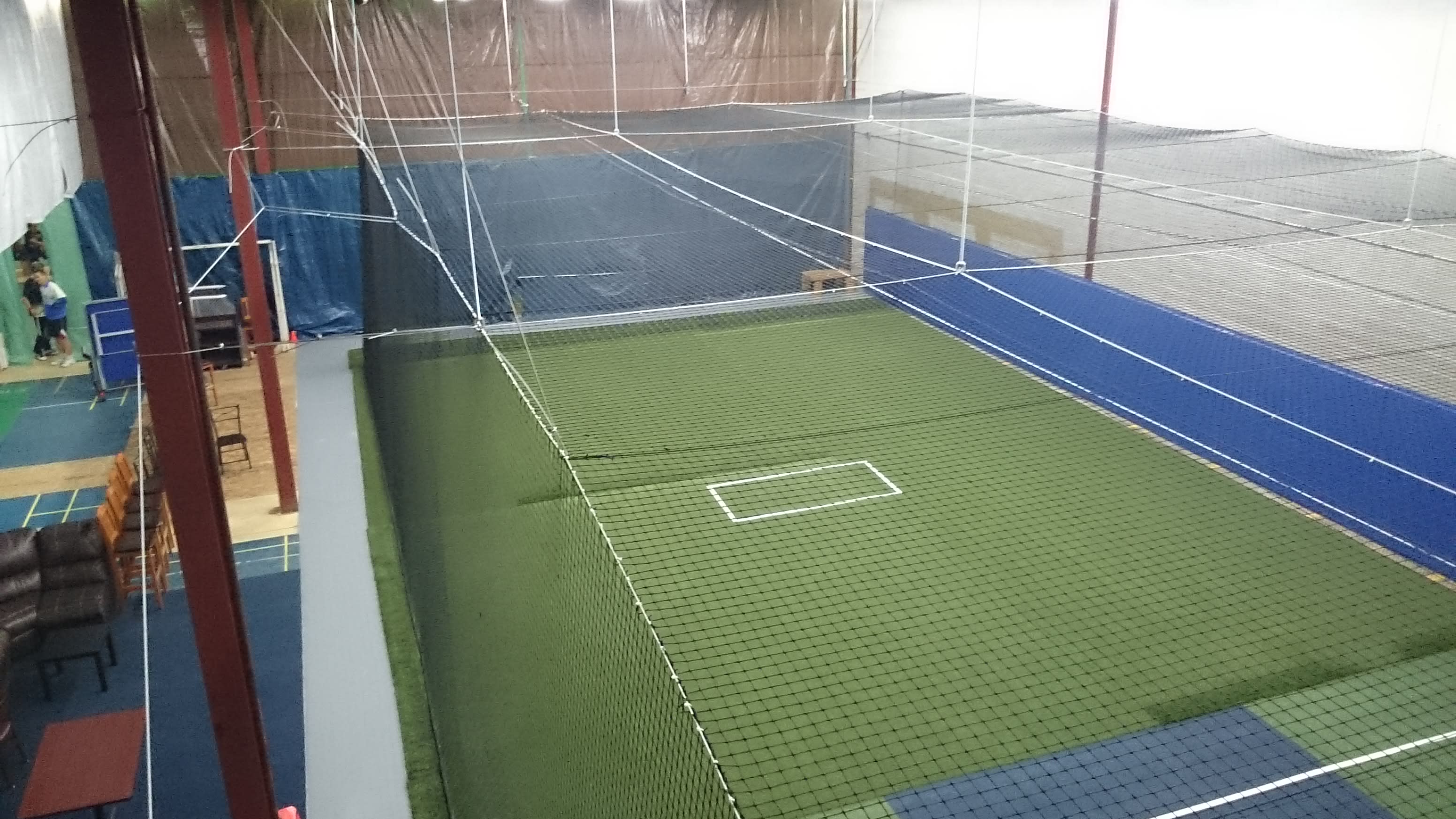 Installation / Maintenance Instructions
Call and speak with one of our fully trained installers.
Outdoor Cricket Nets
Outdoor cricket nets are the standard and most generic form of practice nets. They take shape and form in many different guises, with some nets being homemade whilst others are professional manufactured and installed, and this is reflected throughout the world. Regardless of their design and construction, outdoor crickets all have the same purpose of allowing batting and bowling practice within an enclosed space where the ball is contained.
The design and construction of outdoor cricket nets tends to be based around two factors; the frequency and age of those who will use it, and the space which is available. In schools and cricket clubs where levels of use will be high the construction of the cricket cage will be tailored to suit these requirements. A further unfortunate consideration must be made into the likelihood that the cricket nets will be subject to misuse or vandalism. Therefore, the frames of cricket cages are often constructed out of heavy duty galvanized steel with an overall diameter ranging from 34mm – 50mm, the steel tube is then joined by galvanized key-clamp brackets.
This system requires ground sockets to be concreted into the ground, although these cannot be removed the actual frame of the cage can still be dismantled. There are variations in the design of outdoor nets such as a pulley and ratchet system where the net is mounted on a cable which spans posts located at either end of the practice net.
Garden cricket nets are frequently DIY and quite often take the form of a professional design with locally sourced components. This occurs primarily due to cost implications, but also due to the fact cricket nets are fundamentally simple in design and purpose and thus greatly increase the feasibility of constructing a homemade cricket net.
There are few rules of thumb to follow particularly with size. The width should be no less than 9 ft, with 12 ft being optimum. The height should be no less than 9 ft if the length of net is longer than 24 ft, this is increased to 10 ft up to a length of 36 ft and nets with roof lengths beyond 36 ft should have a net height of 12 ft – this is to prevent balls ending up on the roof of the cricket net after being bowled. The length of the net is flexible, however the longer the net the more ball containment and the safer the surround training area is. There is a further type of outdoor cricket nets, this is a mobile cricket net.
A steel framed cricket cage can be adapted with wheels to allow them to be become completely portable.