Batting Cages for your sports or recreational facility as well as residential properties are available from Turf Net Sports Supplies. Pre-determined sizes or custom-sizes to fit your unique requirements.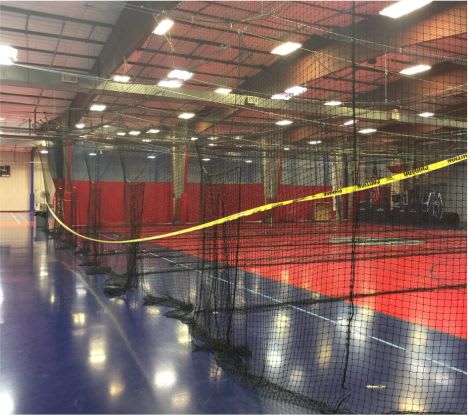 Batting Cages
Turf Net Sports Supplies can custom make any size batting cage for your facility or even your backyard. Our specially trained team will work with you to meet your requirements for indoor or outdoor batting cage requirements. 
Materials and Features
All custom baseball cages are strictly the cage or webbing itself and are made with a 2" mesh, 210/096 Nylon webbing with a heavy duty impact baffle. The baffles have a lead line on the bottom to stop the impact net from taking an hour-glass shape. Baffles are normally sewn into the cage 12" to 18" away from the back panel. Cage comes just as a cage with a roof, 2 sides and a back as well as a baffle sewn in to the cage.
Custom Golf cages are also available made with a 1" mesh, high impact nylon webbing and include a heavy duty impact baffle.
Request a Quote
Contact Us
Custom Designed Batting Cages
If your facility is unique, or if you require unique features for your batting cage(s), we are here to help. We have worked with 100s of facilities to provide just the right cage for their needs.
Contact Us To Get Started
Indoor or Outdoor 
Free-standing outdoor cages are available, any size or configuration to fit your requirements. All include our impact baffle. This feature adds a safety feature not supplied by others in the industry. 
Request A Quote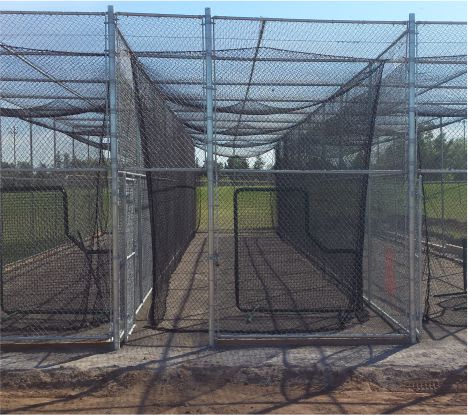 Turf Net is a outstanding business in the Niagara region. They have done a outstanding job with the 7 batting cages at BP Sports Park in Welland Ontario .Thanks Tim you are making the kids at Bullettproof Baseball Academy dreams come true



















Buy Batting Cages Online
Below you will find some of the more common batting cage sizes. Cage comes just as a cage with a roof, 2 sides and a back as well as a baffle sewn in to the cage.
Batting Cage 1 
10'H x 10'W x 60'D
$1995.95
Batting Cage 2 
12'H x 14'W x 55'D
$2433.95
Batting Cage 3
12'H x 12'W x 70'D
$2710.95
Batting Cage 4
12'H x 14'W x 70'D
$2877.95