The golf netting experts at Turf Net Sports Supplies can supply and install the barrier netting required at your golf course or driving range for maximum containment against stray balls.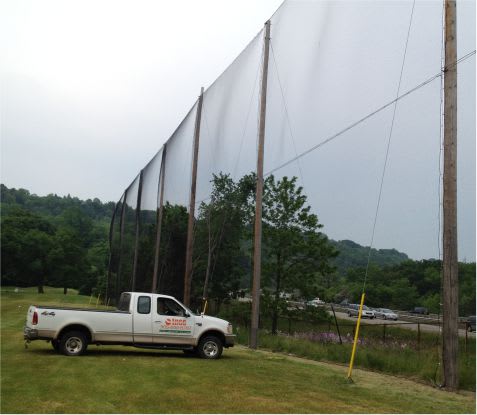 Netting Supply and Installations
Turf Net Sports Supplies has 25+ years installing netting systems across Canada. Working with golf course and driving range owners / management to install a barrier netting system specific for your property and requirements. 
Additional Products
We can supply and install wood telephone poles, all anchoring that would be needed for the installation. We will supply just the netting panels required for your project, should you wish to install in-house. 8 mm Spring Snap Hooks, Hog Rings, Auto Hog Ring Pliers, bolt clamps, ground anchors are just some of the hardware that we supply and install on projects.

We can also supply you with a winch system that will allow you to crank your nets down should there be a storm. It is recommended nets be taken down during the winter months for maximum durability. 
Contact us for more info
Request A Quote
Turf Net Sports Supplies will gladly work with you and your engineers, designers and planners to spec the right netting for your application. If you require assistance in determining what is needed or would like a quote, click the link below or call us. 
Get a Quote or Info
Installation / Maintenance
We recommend that any pole that is installed be compacted with screenings around the butt of the pole.  We also recommend that any net that measures more than 40 feet in height have a middle rib line to help deflect the wind billow. If a height of a net is 80 feet or higher than we recommend having a middle rib line every  20 feet.

All of our netting installations are meant to be retracted during the winter months. This prevents any ice or snow build up on the netting panels. One or two things can happen when the snow has built up on the panels. it can either stretch the nets or it can break a pole and take the netting down with it.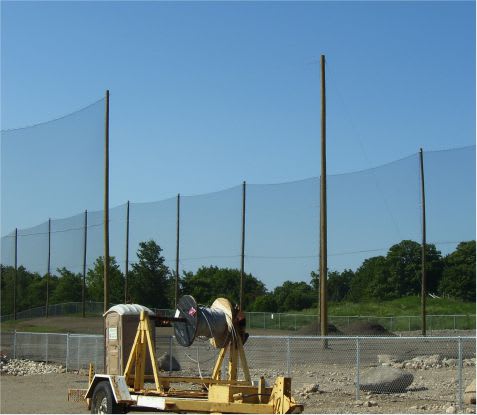 I'd like to thank you for your help with the netting. It's installed and looks great! Very nice product!
Rope Border
This system is found on more golf facilities then any other type of netting. Rope bordered to your exact pole measurements and cable centres make snap hook installation a breeze. This system will not turn gray, will not rot or mildew. 10 year MFG warranty on the nets. Complete packages are available including nets, hardware and poles.
Border Components
⅜" diameter braided polypropylene cover over MFP parral core 2840 lb test. Used for netting perimeter, horizontal wind lines and vertical rib lines. Attachment twine # 42 braided black polyester 440 lb. tensile strength. 8 mm spring snap hooks are then used to attach netting to all support cables.



Polypropylene Barrier Netting
 Product: 1" Mesh Barrier Netting
 Fiber: 100% Polypropylene
 Colour: Black
 Construction: Knitted
 Break Strength: 75 Lbs.
 Burst Strength: 225 Lbs.
 UV Stabilizer: Carbon Black
 Average Field Life:
7 to 10 Years Outdoors
 Approx. Wind Load: 14 %

Polypropylene
Standard-Econo Net
Product: 1" Mesh Econo Netting
Fiber: 100% Polypropylene
Colour: Black
Construction: Knitted
Break Strength: 50 Lbs.
Burst Strength: 150 Lbs.
UV Stabilizer: Carbon Black
Average Field Life:
4 to 6 Years Outdoors
Approx. Wind Load: 8 %
Manufactured in the U.S.A.

Polyester Poly 2000
1" Mesh 
Product: 1" Mesh Range Netting
Fiber: Hi Tenacity Polyester
Colour: Black
Construction: Warp Knit Knotholes
Break Strength: 150 Lbs.
Burst Strength: 450 Lbs.
UV Stabilizer: Impregnated
Average Field Life:
7 to 10 Years
Approx. Wind Load: 16 %

Impact Web
 CONSTRUCTION
RASCHEL KNOTLESS NETTING
TWINE SIZE
210/60 (#60)
FIBRE
100% NYLON
COLOUR
BLACK
BREAK STRENGTH
249 LBS.
MESH SIZE
1 7/8" STRETCH - 1" SQUARE
Buy Online
Note: Polypropylene netting available in the following sizes: 6 1/2' x 150', 12 1/2' x 150', 25' x 150' and 50' x 150'.
Installation / Maintenance Instructions
POLYESTER GENERAL INSTALLATION SPEC SHEET
Poles by height:

Wood Poles up to about 70'.
6 x 6's or piling poles up to 12'
Class III Utility Poles from 20' to 35' high
Class II Utility Poles from 35' to 50' high

The embedding of the poles varies depending on the height of the net and the soil conditions.  Steel poles can be used at any height: however, they are most cost effective at 70' and higher.

Generally for a 50' net poles would be 60' Class II with an embedding of 9'6".  For a 25' net the poles would be 35' Class III with an embedding of 9'6", backfill with native soil and hand or power tamped to 85% of original compaction.

POLES SHOULD NEVER EXCEED 50' ON CENTRE

Steel poles should be used from 75' to 160' high netting projects.
These poles have the capability of being pre-engineered for extension.
Steel Poles designed to the following:
Poles Not to exceed 50' on center.
Wind Speed 80 M.P.H or local requirements.
Exposure "C" per the U.B.C or local requirements.
150 lbs. Allowable lateral soil pressure.
Concrete Backfill ( 2500 P.S.I. Concrete).
 STYRK Finished.
Poles can be Engineered for higher wind speeds and various soil conditions.

Wood poles require down guys at the end of each run or change in height or turn in net line.  Down guys should be run from top cable and all wind lines. Steel poles require down guys at beginning and end of run and any turn over 20 degrees..

Bottom treatments such as 2 x 12's can be placed along the bottom of the net line to protect the net from damage due to ball pickers weed whackers, or mowers.  The bottom cable can be secured to the 2 x 12's.  Wire mesh can also be used and may be less expensive.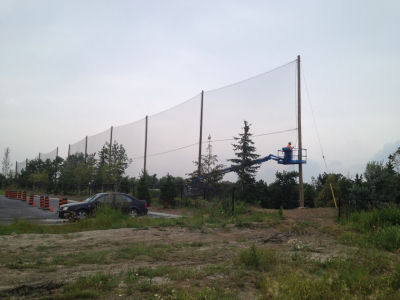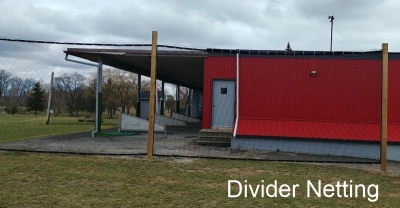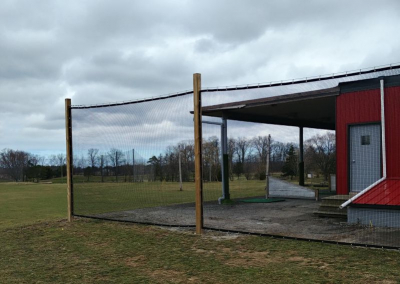 .
---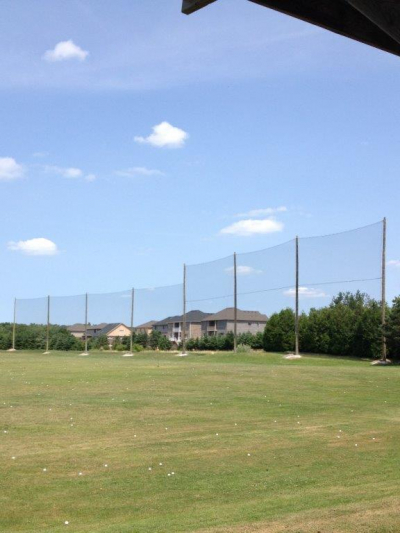 POLYESTER NETTING ( MADE IN THE U.S.A.):  Available in any custom size with a rope border all the way around the perimeter.  We will put a vertical rib line at the location of each center pole and horizontal wind line.  A wind line is not necessary until you get to a height of 30' above ground, however depending on your local wind requirements you may wish to add one or more to your structure.

After you have set all your poles, plum, level and in line, set required anchors, now you are ready to install the hardware.

All hardware should be locked tight to the pole (s) using lock and square washers, as well as a square nut on front and back of threaded rod.  All cables should be 5/16" 7 strand for the top and guy cables, and ¼" 7 stand cable for bottom, vertical and horizontal wind lines.  The cables should be tightened by way of come along.

Please refer to the center pole hand sketch (attached) as a reference guide for interim poles. ( center poles), as it relates to hardware placement.

When a net is more than 500' in length , it needs to be terminated and restarted.

At this time you should have a complete frame of  poles, cable and associated hardware, that is square, plum and level.

Now you are ready to install the netting.  Start at the upper left hand corner and secure the net to all lines with snap hooks placed @ 24" intervals.  Continue to the right with the process until net is totally secured. (all nets will be tagged in upper left hand corner or marked by net numbers as per your specifications. Measurements for netting should always be given from left to right looking from inside of range to outside of range.)

Note:  Snap hooks should be attached between rope and cable only. DO NOT attach netting or lacing cord inside of snap hook, as it will cause rapid abrasion and breakage. Refer to hand sketch attached.

These installation suggestions have not been stamped or approved by an engineer.  If engineering approval is required by local authorities for any permit there will be a charge which may vary depending on conditions of installation and time required to obtain approval.
If you need further assistance please contact 1-877-617-8787.

Call one of our experienced installers to ask any questions that you may have regarding your installations.

Contact Us