Big or small, ready-to-assemble, or custom designed to your requirements, our team has built and installed unique golf cages throughout the years for golf courses, driving ranges, mini-putt facilities, sporting facilities and homeowners.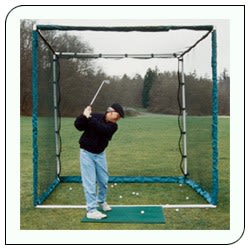 Pro Cage Item # 79140
The Pro Cage features the POWERCAGE heavy duty net using the steel frame of the Par-Cage. This standard 10' x 10' x 10' is height adjustable, perfect for year round use indoors or outdoors. The Pro cage comes with the net built in one piece with rope edges and a baffle stitched into both the sides and the roof. Velcro straps wrap around the net and frame for quick setup and tear down.

The Pro Cage comes with the net, target and corner brackets. The steel frame pipes are available at your local home supply store.
Item #79140

Price: $845.00
Request A Quote
Turf Net Sports Supplies will gladly work with you to create your golf cage vision for your residential or commercial property. We have designed some truly unique cages. 
Get a Quote or Info
The Power Cage
New & improved for easy assembly and longer life, Ideal for golf shops and outdoor practice areas. A built in double hitting wall withstands the strongest drives.

Item # 79150

Price:
$1225.00