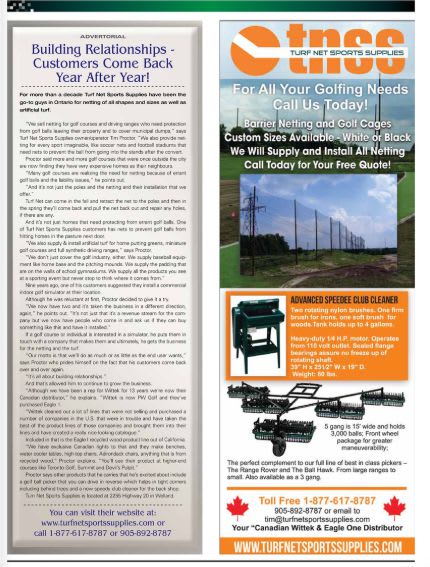 Building Relationships - Customers Come Back Year After Year!
For more than a decade Turf Net Sports Supplies have been the go-to guys in Ontario for netting of all shapes and sizes as well as artificial turf. 
We sell netting for golf courses and driving ranges who need protection golf balls leaving their property and to cover municipal dumps," says Turf Net Sports Supplies owner/operator Tim Proctor. We also provide netting for every sport imaginable, like soccer nets and football stadiums that need nets to prevent the ball from going into the stands after the convert.
Proctor said more and more golf courses that were once outside the city are now finding they have very expensive homes as their neighbours.
Many golf courses are realizing the need for netting because of errant golf balls and the liability issues, he points out. And it's not just the poles and the netting and their installation that we offer.
Turf Net can come in the fall and retract the net to the poles and then in the spring they'll come back and pull the net back out and repair any holes, if there are any. 
And it's not just homes that need protecting from errant golf balls. One of Turf Net Sports Supplies customers has nets to prevent golf balls from hitting horses in the pasture next door. 
We also supply & install artifiical turf for home putting greens, miniature golf courses and full synthetic driving ranges, says Proctor. 

We don't just cover the golf industry, either. We supply baseball equipment like home base and the pitching mounds. We supply the padding that are on the walls of school gymnasiums. We supply all the products you see at a sporting event but never stop to think where it comes from.
Nine years ago, one of his customers suggested they install a commercial indoor golf simulator at their location. 
Although he was reluctant at first, Proctor decided to give it a try.
We now have two and it's taken the business in a different direction, again" he points out. "It's not just that it's a revenue stream for the company but we now have people who come in and ask us iff they can buy something like this and have it installed."
If a golf course or individual is interested in a simulator, he puts them in touch with a company that makes them and ultimately, he gets the business for the netting and the turf.
Our motto is that we'll do as much or as little as the end user wants," says Proctor who prices himself on the fact that his customers come back over and over again.

It's all about building relationships."
And that's allowed him to continue to grow the business.
Although we have been a rep for Wittek for 13 years we're now their Canadian distributor," he explains. "Wittek is now PW Golf and they've purchased Eagle One.

Wittek cleaned out a lot of lines that were not selling and purchased a number of companies in the U.S. that were in trouble and have taken the best of the product lines of those companies and brought them into their lines and have created a really nice-looking catalogue." 
Included in that is the Eagle One recycled wood product line out of California. 
We have exclusive Canadian rights to that and they make benches, water cooler tables, high-top chairs, Adirondack chairs, anything that is from recycled wood," Proctor explains. "You'll see their product at higher-end courses like Toronto Golf, Summit and Devil's Pulpit." 
Proctor says other products that he carries that he's excited about include a golf ball picker that you can drive in reverse which helps in tight corners including behind trees and a new speedy club cleaner for the back shop. 
---
Article reproduced with permission from Pro Shop Magazine.